At Six Figure Sneakerhead we pride ourselves in providing you with the most current and accurate information regarding sneakers and their resale value. More often than not, the sneakers we recommend you buy are ones that are aesthetically pleasing. Today's article will explore a different aspect of the sneaker market.

Do you find yourself constantly missing out on the latest releases? Join our Winner's Circle and never miss out on the hottest sneaker releases and apparel. Learn how you can utilize sneaker stores to maximize your reselling potential!
#5 Air Jordan 5 Retro 3Lab5
Release Date: Friday September 20th, 2013
Retail: $225
Style Code: 599581-007
Average Resale Price: $302
Everyone loves the Jordan 3. The iconic sneaker features the famous 'elephant print' that the sneaker community agrees is a great touch. Not too much, not too little.

Until the Jordan 5 3Lab5.
Picture of the Air Jordan 5 Retro 3Lab5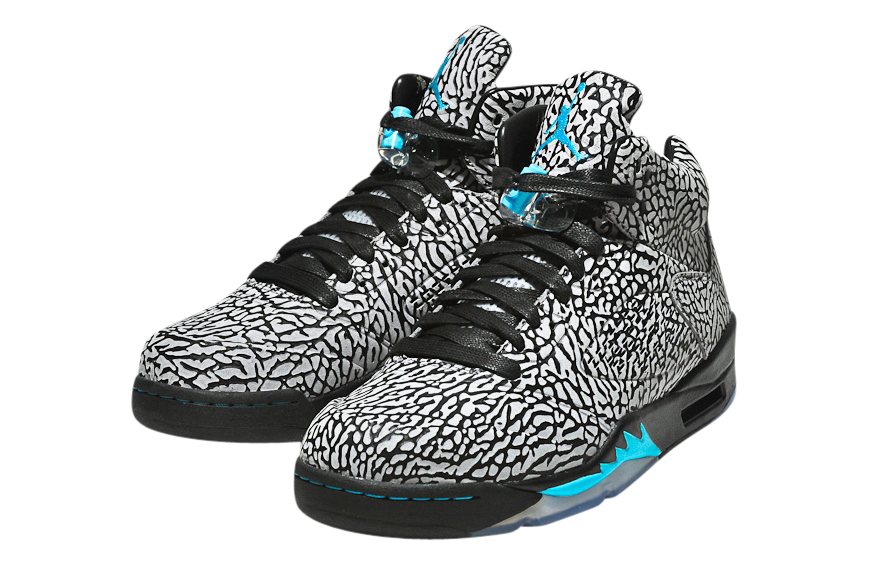 Wow! That is a lot of elephant print. This sneaker screams "in your face" and "look at my feet!"

Despite its apparent physical appearance, the sneaker has actually done decently well on the resell market. With a retail price of $225 in 2013, the Jordan 5 3Lab5 has an average resale price of $301.

The Jordan 5 Retro 3Lab5 is proof that beauty really is on the inside.
#4 Air Jordan 7 'Nothing But Net'
Release Date: Friday November 13th, 2015
Retail: $190
Style Code: 304775-142
Average Resale Price: $307
It should come as no surprise that this sneaker's nickname is the Jordan 7 'Ugly Sweater'
The Air Jordan 7 is already a less popular mode than its predecessors, and Jordan brand hit a brick with these.
On court picture of the Air Jordan 7 Nothing But Net
The crazy combination of radical colors really makes the shoe tough to wear with anything.
The Jordan 7 Hare is a good example of how they should have executed this sneaker. Throw all the color on the sole, and let the rest of the sneaker be quite toned down.
All that being said, the sneaker still brings a 176% price premium on the resale market, so these are definitely profitable sneakers!
#3 Air Jordan 1 'J Balvin'
Release Date: Monday December 7th, 2020
Retail: $190
Style Code: DC3481-900
Average Resale Price: $635
J Balvin, for those of you who don't know, is a Columbian rapper and one of the highest-selling artists in the world.
You'd think someone of that stature would be able to put out an amazing, beautiful sneaker with the likes of the Jordan brand. Well, see for yourself.
On feet picture of the Air Jordan 1 'J Balvin'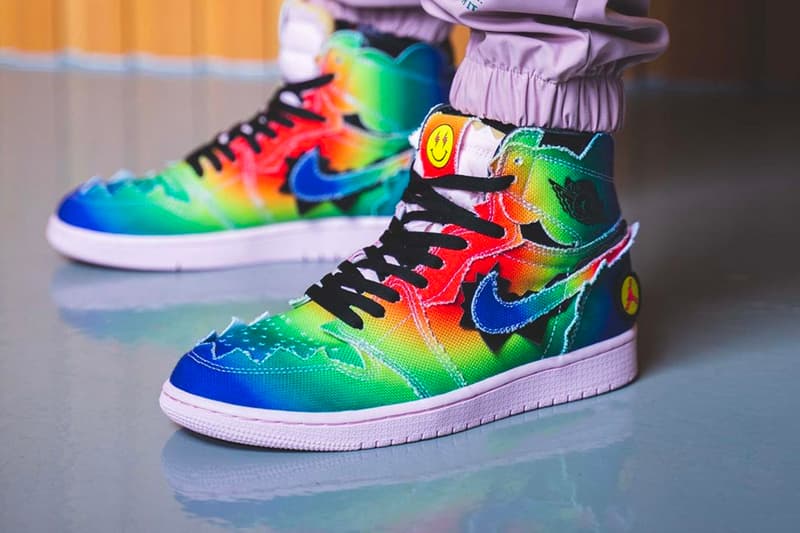 Wow, that's a bright shoe. Columbia is about the only place you can wear these as they blend in with their colorful cities.

In all seriousness, Air Jordan 1 'J Balvin' is a crazy sneaker. The gradient rainbow, purposeful tears, and smiley faces might mean that people won't take you as seriously if you wear these.

This may be shocking, but these sneakers sell for an average price of $635. Yes, $635 for those sneakers right there. Don't judge a sneaker by its colors, but rather the collab and hype. Now imagine you managed to cop a few pairs through our Winner's Circle, that would be a hefty amount of profit.
#2 Air Jordan 20 'East Coast'
Release Date: Monday June 30th, 2005
Retail: $175
Style Code: 310455-711
Average Resale Price: $159
As soon as you see "Jordan 20" you can probably expect a sub-par sneaker. Sub-par would probably be a compliment for this pair, as the colorway really might make you nauseous.
Clear picture of the Air Jordan 20 'East Coast'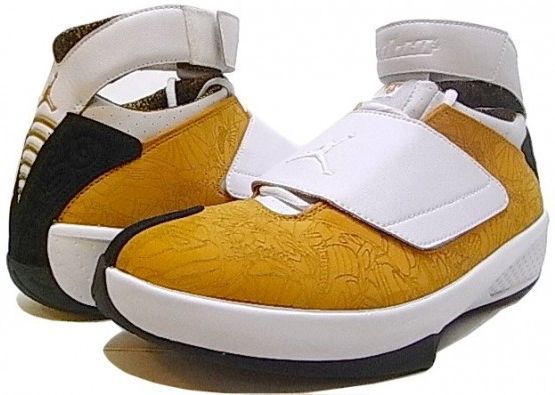 Not much needs to be said here. The brown is just off, and the designs riddled throughout the sneaker just subtract from that. The "different" lacing system and the warping black leather don't help either.

We're just going to leave it at that, and head to #1.
#1 Air Jordan 11 Retro Low IE 'Volt'
Release Date: Wednesday August 15, 2018
Retail: $170
Style Code: 919712-700
Average Resale Price: $225
Here we are, #1. You'll see in a second why this sneaker has topped our list for ugliest Jordan ever released. The color, the design, everything, is just so ugly!
Sideview picture of the Air Jordan 11 Retro Low IE 'Volt'
Well, there we are. I've spent an hour thinking about when you could wear these sneakers, and I have one idea: conducting traffic. People can probably see you a mile away in these.

Of course, this sneaker is bringing back the elephant print in a way that just makes no sense. Nothing flows in this sneaker, it's just a blob of green.

That's it for our ugliest Jordans ever released! We want you to remember one thing though: wear the sneakers that make you happy, it doesn't matter what anybody else thinks.

If you love a sneaker and someone else calls it ugly, it doesn't matter. Sneakers are for everyone and everyone has different tastes, remember that!
Make sure to check out our HypeMaster Playbook to learn about how you can capitalize on this billion-dollar market and set yourself up for success.