At Six Figure Sneakerhead, we pride ourselves in providing you with the most current and accurate information regarding sneakers and their resale value. More often than not, the sneakers we recommend you buy are ones that are aesthetically pleasing. Today's article will explore a different aspect of the sneaker market.

Do you find yourself constantly missing out on the latest releases? Join our Winner's Circle and never miss out on the hottest sneaker releases and apparel. Learn how you can utilize sneaker stores to maximize your reselling potential!

#5 Adidas Yeezy Boost 350 V2 Semi Frozen Yellow
Release Date: Friday November 17, 2017
Retail: $220
Style Code: B37572
Average Resale Price: $432

On-Foot Photo of the Yeezy 350 'Frozen Yellow'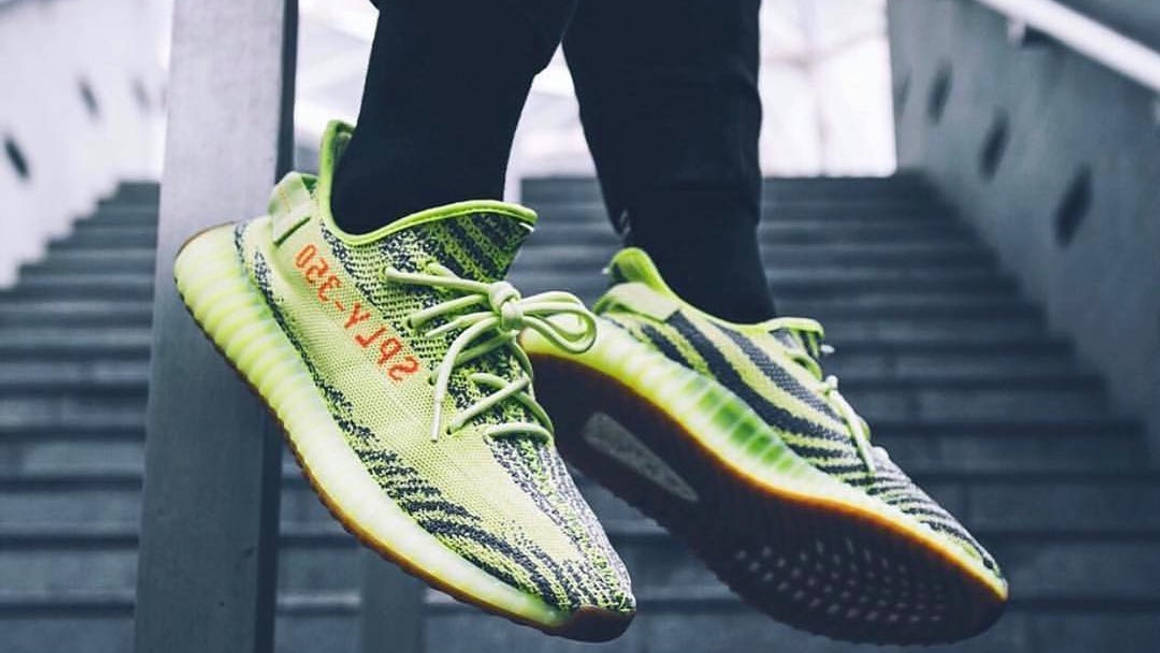 Coming in at #5 we have the Frozen Yellows. Obviously a bright, in-your-face colorway on this sneaker, but it's nothing compared to what we've got coming.

As you can see from the information above, these sneakers actually bring in some decent profit. The 350 model is the most famous of the Yeezy's, so despite the color, these will still bring in some profit.

We'll keep it light for this pair, as we've got some ugly shoes coming up!

#4 Adidas Yeezy Slide Glow Green
Release Date: Sunday September 5, 2021
Retail: $60
Style Code: GX6138
Average Resale Price: $144

Photo of the Yeezy Glow Green Slides
We get it, they're slides. But still, that color is blinding!

When you think of slides, you think of a sleek, minimal design that isn't going to draw attention. These? Just the opposite.

Now, there are definitely ways to incorporate these into an outfit and make it look good, it will just take some effort! For the resellers out there, that $60 retail should be really appealing!

Imagine if you had copped multiple pairs through our Winner's Circle, that would be a lot of profit!

#3 Adidas Yeezy NSLTD Boot Khaki
Release Date: Thursday November 4, 2021
Retail: $340
Style Code: GX0054
Average Resale Price: $563
Photo of the Yeezy NDLTD Boot
Wondering when on earth you would ever wear these? We are too. The fact is, these sneakers aren't practical and look terrible.

Kanye, or Ye now, doesn't miss often, but there are exceptions to that. It seems like he was inspired by some kind of military boot, but lost the inspiration bout halfway through.

The bulkiness of the sole and puffiness of the upper just contrast too much and create a really physically unappealing boot/sneaker!

On to #2…

#2 Adidas Yeezy Foam RNNRMX Cream Clay
Release Date: Sunday August 1st, 2021
Retail: $80
Style Code: GX8774
Average Resale Price: $319
Image of the Foam RNNRMX Cream Clay
Wow, what a… sneaker? Can you even call these sneakers?

Anyway, these are ugly. Let's start at the top: the shape of the sneaker. You've got questions and we don't have the answers. The shape makes no sense and just isn't practical whatsoever.

The colorway? Looks like the top of a Ben & Jerry's Ice Cream tub! A near impossible color scheme to wear, let alone match with!

But of course, with an $80 retail and an average resale of $319, people are willing to pay hefty amounts for these. That is something you can take advantage of, by purchasing our Hypemaster Playbook and learning how you can cop pairs like this!

#1 Adidas Yeezy 450 Resin
Release Date: Thursday December 16th, 2021
Retail: $200
Style Code: GY4110
Average Resale Price: $224
Photo of the Yeezy 450 Resin
Wow, no surprise these are #1. A similar colorway as some of the other pairs we've seen, that bleach yellow. It's just not an appealing colorway whatsoever.

The shape of the sneaker looks like the sole is trying to take over the whole sneaker, like some sort of alien-like creature. At least this pair has all of the aspects of a proper sneaker!

It's not really any shock that this pair has the lowest resale profit % of any of the other pairs we've seen. Yet, every pair has been profitable, and that's extremely important to understand.

Even sneakers that are incredibly ugly, and some of these are incredibly ugly, can have some insane resale prices that you can benefit from!
Well, there we are. I've spent an hour thinking about when you could wear these sneakers, and I have one idea: conducting traffic. People can probably see you a mile away in these.

Of course, this sneaker is bringing back the elephant print in a way that just makes no sense. Nothing flows in this sneaker, it's just a blob of green.

That's it for our ugliest Yeezy's ever released! We want you to remember one thing though: wear the sneakers that make you happy, it doesn't matter what anybody else thinks.

If you love a sneaker and someone else calls it ugly, it doesn't matter. Sneakers are for everyone and everyone has different tastes, remember that!
Make sure to check out our HypeMaster Playbook to learn about how you can capitalize on this billion-dollar market and set yourself up for success.
Is Yeezy Ugly?
Some models are less appetizing than others. Beauty is in the eyes of the beholder.
Are Yeezy Shoes Worth It?
Yeezy is made of good quality and is durable and hyped. They are also great for reselling as the resale value often doubles the retail price.
Why Are Yeezy Shoes Expensive?
A big reason why the shoe is expensive is that it's often bought in the aftermarket where prices are inflated due to high demand.
What Are The Best Yeezys?
The most popular Yeezys are the 350 V2, followed by 700 and Slides.